1. Nic White raises his hand.
So much of Bledisloe I was missed given the game's extraordinary ending. Bernard Foley's superb return was relegated to the side story but the performance was so good that he safely secured the No 10 shirt for the second leg in Auckland. Thank you Japan (see point #4).
But a razor-sharp performance from the bench by Nic White was also significant. Distracted in Sydney – in hindsight he should have been picked – he was neat at Marvel Stadium and provided real purpose for the Wallabies attack. In those 27 minutes, he may have reclaimed the No. 9 jersey.
2. Rugby Australia was the winner.
RA chairman Hamish McLennan looked as if he had been forced to consume two-week-old milk as the post-Test pleasantries unfolded on the Marvel Stadium lawn, with fellow New Zealand rugby player Stewart Mitchell to his left. However, subsequent TV ratings must have eased the nausea.
As revealed by colleague Iain Payten, the total was more than 1 million, including an implied number of Stan viewers well over 300,000. They're a large number because they indicate a healthy number of fans who are already committed to rugby and a significant number who could be won over if the product is right. Come along, Joseph Suaalii, and bring Latrell with you – he'll be wearing a Wallabies jersey that honors his heritage and he'll certainly not be booed.
3. Lalakai Foketi is Australia's most improved.
Hunter Paisami must still be considered the front-runner for the No. 12 jersey at Eden Park when he recovers from the concussion he suffered against the Springboks. However, Dave Rennie will not lose any sleep if he has to go with the Foketi again. The Waratahs No. 12 is arguably the most improved player in Australia.
He's reduced his penalty rate significantly in recent years and would have happily enjoyed a moment in the sun had Foley not been penalized for wasting time against the All Blacks. It was Foketi who earned the penalty that seemingly won the game for the Wallabies. I'm not convinced he supported his bodyweight, but Raynal directed the game that way, giving the defending teams the benefit of the doubt on the breakdown. It remains an issue.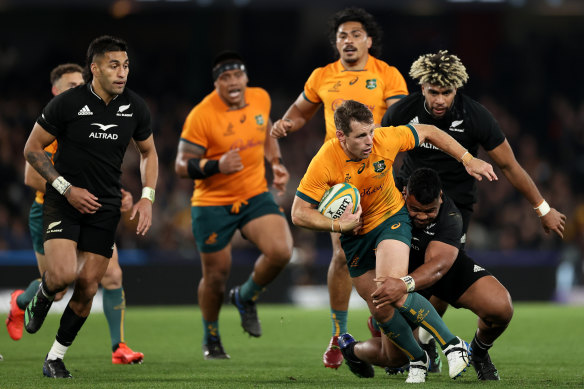 4. Malcolm Marx is doing good sales for Japan.
The Japanese want cross-border club competition, although it is questionable whether the same appetites exist in Australia and New Zealand. However, it's becoming increasingly difficult to argue that players don't actually improve by traveling to Japan.
Springboks hooker Malcolm Marx in a case in point. He's always been a beast, but the skill he showed in the Boks' win over Argentina was excellent: a great left-hand pass to set up a goal and great hands to get that bonus point at the end to win. He just wasn't that versatile before signing with Kubota Spears.