"Increased research, training and knowledge can help healthcare professionals feel better equipped to make informed treatment/prescribing decisions."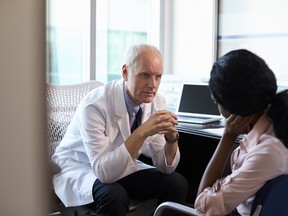 content of the article
Canadians seeking Healthcare Providers (HCPs) to approve their use of Medical Cannabis (MC) are likely to encounter hurdles in finding not only someone who will, but also someone knowledgeable about the drug's health-related uses.
content of the article
Canadian researchers collected the opinions, knowledge, comfort levels, and practices of HCPs such as treating physicians, nurses, and pharmacists in prescribing MC. In order to obtain a broad cross-section of participants, the relevant survey was distributed to their members by 24 health associations between April 13 and December 13, 2021, according to the study published this month BMC Complementary Medicine and Therapies.
content of the article
Completed surveys were received from 70 people, 71 percent of whom were treating physicians or residents, with the remainder being nurses, pharmacists and other healthcare professionals.
Canadian patients struggling to access psilocybin are suing the federal government

Whole plant medicinal cannabis reduced the frequency of epileptic seizures in children by 86%: study

Cannabis use after hip surgery not associated with more opioid use, higher costs: study
content of the article
Only a handful, six percent of responding HCPs, reported receiving MC training at a vocational school, although 60 percent of respondents said they had received training through events such as workshops and conferences.
"The most common symptoms for recommendation of MC were pain and nausea, while the most common conditions for recommendation were cancer and intractable pain," the study authors emphasize.
Although recreational cannabis was legalized in 2018, medical marijuana was legalized in Canada almost two decades earlier, in 2001.
While 57 percent of respondents said they received more MC questions since cannabis was approved for adults and 82 percent reported having patients who used MC, not everyone was comfortable being prescribed the drug.
content of the article
In fact, 56 percent of HCPs surveyed felt "uncomfortable or ambivalent about their knowledge of MC, and 27 percent were unfamiliar with the requirements for obtaining MC in Canada," according to the study's abstract.
"The main obstacle to approval of MC has been uncertainty surrounding safe and effective dosages and routes of administration," the authors write. "The biggest obstacle to recommending or approving MC has been the lack of research evidence supporting its safety and effectiveness."
In light of this, the researchers note that "improving research, training, and knowledge can help HCPs feel better equipped to make informed treatment/prescribing decisions, which may help improve access to CD. "
The National Organization for the Reform of Marijuana Laws reports that the Canadian results "are consistent with numerous other surveys from the United States and abroad, which have found that healthcare professionals rarely receive formal training about cannabis and that most insufficient understanding of the subject".
content of the article
A study by McMaster University researchers, published in 2021 and involving 11 physicians, showed that 20 years after the introduction of medical marijuana, Ontario physicians are still reluctant to prescribe MC to patients with long-term pain.
Aside from raising concerns about potential adverse effects and a lack of understanding of MC's effectiveness as a pain reliever, the physicians surveyed also reported potentially harmful effects on cognitive development and the effects of the drug in older adults, possibly including dizziness or drowsiness.
Half a world away, a study comparing the views of medical students in Israel and Thailand showed that the former felt unprepared to use MC to treat pain, despite supporting medical cannabis more than the latter.
content of the article
There also seems to be some reluctance among patients. Results from a survey of 1,000 primary care patients in Vermont, where MC has been legal since 2004, showed that only 18 percent of respondents felt their doctor was a good source of information about cannabis.
Add to that the results of another Canadian survey from 2020. The survey found that Canadian CD patients felt disadvantaged in terms of access and pricing.
"Right now, medical cannabis is unnecessarily expensive and difficult to access, and people are being pushed back into the illicit market," argued Joel Taylor, co-founder of Patient Choice, an online medical platform licensed by Health Canada.
Subscribe to something weekend pharmacya new weekly newsletter from The GrowthOp.