A man known for sharing videos of himself touring people's homes recently shared a clip that has gone wildly viral showing what he said is the smallest apartment in New York City.
Caleb Simpson posted the video to his @calebwsimpson account, where it has garnered more than 30 million views as viewers get a peek inside Alaina Randazzo's $650 midtown Manhattan apartment.
"Today we tour the smallest apartment in New York City at 80 square feet, which is the size of a parking lot," reads the caption of Simpson's YouTube video, which is an expanded version of the tour.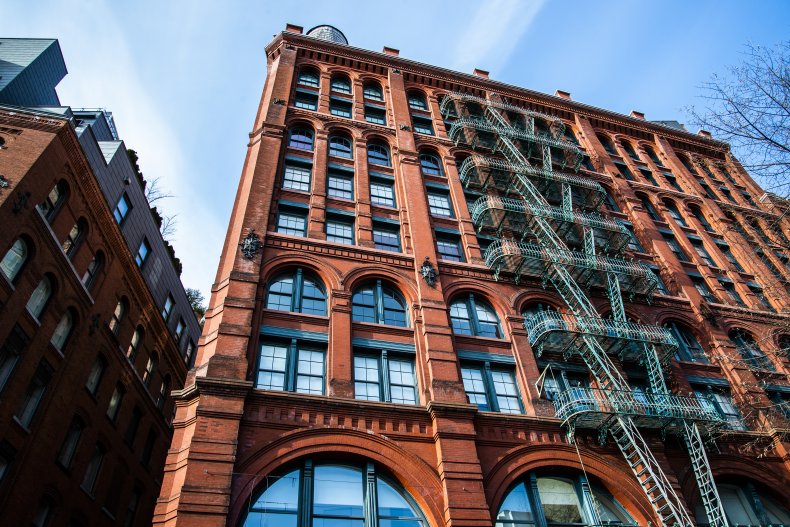 Zumper reported that the average rent for a one-bedroom apartment in New York City was $3,975 — a 28 percent increase in one year.
This average rental price varies in different neighborhoods across the city. While an apartment in one neighborhood can cost $1,800 a month, another apartment in a different neighborhood charges $4,198 a month.
Simpson's TikTok video gave viewers a sneak peek inside Randazzo's apartment.
$650 in Midtown Manhattan
The camera shows a bird's eye view of the tiny room as the door swings open and Randazzo steps into the combined kitchen and living room.
The door almost meets the flat-screen TV and small entertainment center, which sit about a foot from the vertical two-burner stove and single sink.
The next clip showed how small the room was — Randazzo was lying on the floor with his head propped on the front door and his feet on the mini-fridge under the stove and sink.
"5'5″ on a good day, and you don't fit," Simpson said of the clip.
Across from the TV is a small couch next to a ladder that led to her bunk bed.
"It's a loft, which is what I like best about the layout," Randazzo said.
Randazzo's apartment doesn't have a window, but a skylight provides natural light during the day. A bathroom was down the hall from the unit.
The extended version of the tour was released on Simpson's YouTube channel, where Randazzo and Simpson spoke about what it was like to live in a confined space.
She revealed that she once lived in a luxury high-rise before moving into the apartment featured in the videos.
"I've been thinking about retiring [Los Angeles] So when that lease expired, it was a six-month short-term lease," Randazzo said. "I just found it and thought it would be nice and practical."
She explained that she could travel without having to pay a lot of rent.
"People need a lot less than they think they need," Randazzo said. "I learned that here."
Simpson noted in the comments of his YouTube video that Randazzo only planned to live in the apartment for a year and had no plans to renew the lease.
TikToker Reactions
Viewers on TikTok were blown away by the space — with some saying the space was too small for them.
"I'm too claustrophobic for this," wrote one viewer.
"I just can't do shared bathroom sorry," wrote another.
Others, however, enjoyed seeing the space.
"This looks so appealing to me," commented one viewer. "No children. no husband So easy to keep clean."
"This is actually a cool setup for $650," read one comment.
news week reached out to Caleb Simpson and Alaina Randazzo for further comment.
Tiny houses and living in small spaces are becoming increasingly popular.
Another New Yorker claims he has the "smallest apartment in New York City," which he showed off on TikTok in December.
A woman shared a video that gives a tour of her Paris apartment, which measures 96 square meters.
While some think living in such a small space is unattractive, others clearly enjoy it, and one woman shared some tips on how people who live in small spaces can best make it their own.